---
Experts looked at how to make the building industry regenerative …. and they found answers
(Daniel Friedrich, RESTORE Science Communications Manager, 12.12.2020): Print-Version as pdf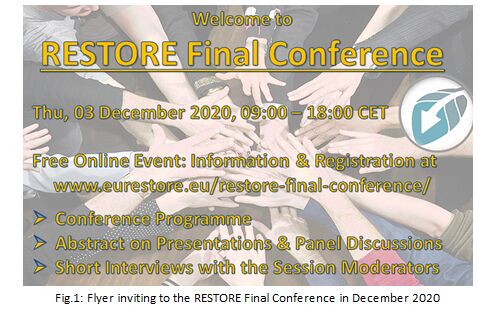 Is it time for a paradigm shift among the decision-makers involved in construction? This was the opinion of the members of one of the largest pan-European research networks, COST ACTION CA 16114, which is not just a number among all previous and current activities in the field of science and technology supported by the COST Association in Brussels. As insignificant this number may sound, the greater the enthusiasm of the over 150 researchers and industry experts in this ACTION. They came together in 2017 under the umbrella of "RESTORE" to work together on this ambitious project. With the participation of over 40 countries, 5 working groups were formed for the lengthy and often exhausting research work. The decisive advantage: competences from more than 30 disciplines ranging from technology and economics to social and policy sciences, financial support from COST (European Cooperation in Science & Technology) and experience in project, research and publication activities. Resource allocation was just perfect, and so the idea of a paradigm shift in technology, society and economics increasingly took shape. Today, RESTORE is a concept within the research landscape and tomorrow it may well be an inner and outer attitude, a world view and a commitment. Because RESTORE is synonymous with "Rethink Sustainability Towards a Regenerative Economy". Now it is time to initiate the paradigm shift and thus, on 3 December 2020, the 150 researchers set the kick-off for the practical implementation of what, after four years of research, can be regarded as truly trend-setting into a regenerative age. The RESTORE final conference held on this day, pandemic conditioned online, but no less impressive, was evidence of this. In 8 sessions, 22 scientists from the ACTION presented the results of their work in presentations and discussion rounds on behalf of the entire RESTORE research group, and they gave impulses for further implementation in research and industry.
Carlo Battisti, ACTION Chair, opened by giving an insight into how RESTORE began and where we stand with the project today. Carlo was in the lead throughout the entire period and manoeuvred the RESTORE team during the stormy times triggered by the pandemic, always keeping the goal in mind. Now, during the conference, Carlo presented proof that the course is still right and he referred to the output of the past years. This includes an impressive number of book publications, congress participations, scientific missions by RESTORE participants and training schools held for young scientists. All this, according to Carlo, is the result of the five working groups as a joint effort of which one can be rightly proud.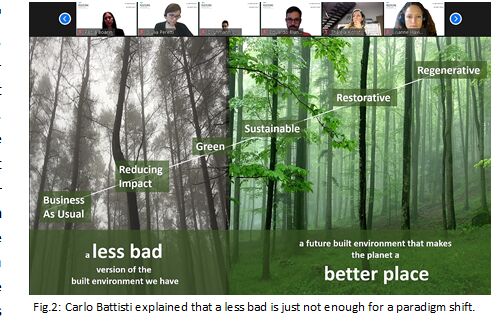 Following Carlos Battis' introductory presentation, Martin Brown, RESTORE Vice-Chair, introduced the first keynote speaker, Joey Pringle. He is the founder of Veshin, the response and countermovement to the fast-fashion and resource-wasting clothing and fashion culture that prevails today. Joe virtually put his finger in a wound that is becoming more and more serious in today's society, both for the environment and for humanity as a whole. His appeal for a greater awareness of more sustainable textiles and recyclable raw materials was both affecting and reassuring. By giving impressive examples, Joey showed how we can all give this trend a new, more positive direction. After experiences from his worldwide travels on this topic, Joey now advises companies that want to make a sustainable commitment. An example that should be followed by as many other industries as possible.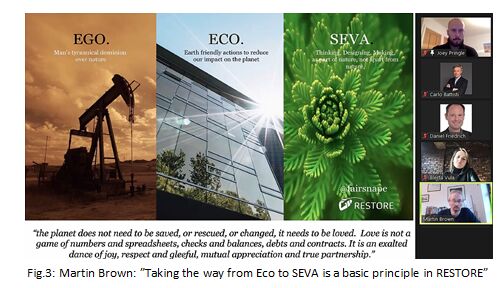 Martin Brown then made this appeal the main topic of the following discussion round. It opened with an overview of the main aspects of the RESTORE Working Group 1, which carried out its work from 2017 to 2018. "Well-beeing and love from more wareness of our planet" was how Martin described the philosophy behind their one-year research work, which was to lead the way away from degenerative and towards regenerative. "Starting to talk about the environmental problems, taking a global view and considering every part of the earth, no matter how small it is", Martin said, "is the right approach for us and industry to finally make the change happen". A message that makes it clear how important the laid foundations by Working Group 1 were for all following groups. Involved in the discussion round were also Blerta Vula Rizvanolli, who spoke about recycling possibilities for building materials, and Edeltraud Haselsteiner on the topic of nature-oriented building using the example of Africa. Martin Brown then took up both topics again and presented a similarly successful project, the Cuerden Valley Visitor Centre in England. Examples that all made it clear how logical and simple regenerative building can be exemplified. After a stimulating discussion round, Martin also explained the group work as a daily task for all conference participants. The central question was how we would imagine a future city called RESTORD 2030, i.e. in 10 years' time, which has obviously achieved the desired paradigm shift. All participants were invited to write down their proposals in an online chat-forum so that they could be presented in the evening. The results should later be incorporated into the still ongoing research project RESTORD 2030 of the ACTION.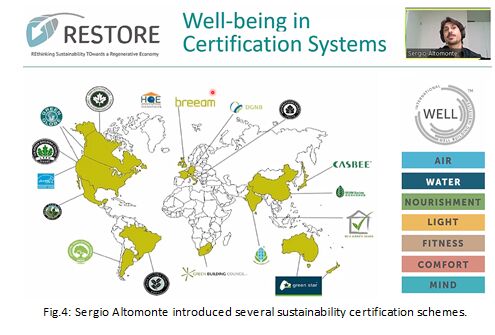 Next, Lisanne Havinga, Leader of Working Group 2, opened the following session on Restorative Design. This was the central theme of the work in the second research group of the ACTION, which was active from 2018 to 2019. Havinga focused her presentation on the impact of today's building principles on the climate. This provided an ideal prelude to the next speaker in the session, Emanuele Naboni, who talked about the impact of construction on the environment and the climate around the building. He emphasised the increasing energy demand for cooling under the change in our current global climate. Catherin de Wolf gave credit to Emanuele's words and suggested the introduction of a binding CO2-passport for the materials employed. The fact that sustainable construction and a sense of well-being in the use of buildings are mutually dependent on each other was finally ruled out by Sergio Altomonte, who now placed humans at the centre of all considerations. He appealed that building standards should no longer be based on purely technical arguments but should also take into account living comfort criteria.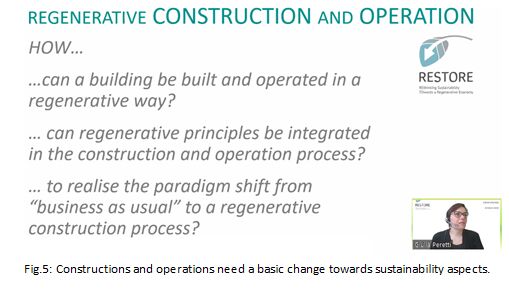 At the latest after the introduction by Gilulia Peretti, leader of Working Group 3, it became clear what the logic behind the overall concept of the RESTORE ACTION was. Because now the topic of Restorative Building and Operations followed, which this Working Group dealt with from 2018-2019 in the light of the paradigm shift envisaged for the long-term RESTORE goal. Just like a hermeneutical circle, the research of each Working Group revolved around the central topic of "Rethinking Sustainability", and they became increasingly concrete in their recommendations. Giulia, for example, spoke about how principles of restorative building can be integrated into typical building processes using specific measures. Paola Viloria began by presenting the results of a study from Working Group 3, which examined the current attitude of specialist planners in Europe on the subject of sustainable building. Here it could also be seen that the 150 experts interviewed attributed a special key role to the façade of a building when using sustainable, bio-based materials. Carsten Druhmann, the next speaker in this session and Vice-Leader of this Working Group, then focused on building processes with a major orientation towards facility management, which should increasingly take social criteria into account and also require a paradigm shift therefore. To this end, sustainability values must be communicated more actively between the parties involved in construction. Finally, the last speaker, Paola Boarin, became even more specific and showed how architecture, technology and the user community can be combined. In order to do so, the term "cultural sustainability" first had to be coined and internalised, and the drivers for regenerative transformation had to be identified. Only when it becomes clear that historical environments represent a non-regenerative resource that can be irretrievably lost, do we develop the necessary sensitivity in building planning. "Stricter regulatory measures could certainly help here", as said by Paola.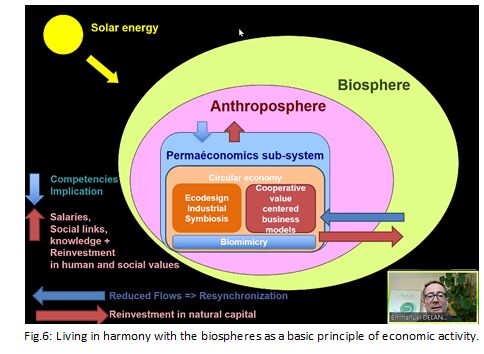 Besides all the presentations on the RESTORE project, the two keynote speeches were certainly outstanding pillars of this conference. Following on from Joey Pringle's lecture in the morning, Eduardo Blanco now introduced the second guest speaker. Emmanuel Delannoy, entrepreneur, lecturer and book author, spoke on the topic "From circular economy to permaeconomics". At first glance, running an economy in harmony with ecosystems seems almost impossible. But not in Emmanuel`s opinion, because he pointed out that without our diversity of natural systems life would be monotonous and even unbearable. Biodiversity is something we can learn from for the economy. "Away from standardisation and towards greater process diversity, from interaction to cooperation and from dependencies to solidarity are the signposts for a restorative economy", Emmanuel urged. He thus hit the heart of the RESTORE ACTION and inspired enthusiasm for his ideas on a broad front.
One of the basic principles of COST ACTIONs is the promotion of transnational scientific exchange in the form of longer stays abroad by researchers. After almost four years of RESTORE project work, Jelena Brajković, Grand Manager for Scientific Missions (STSM) and Conference Participations & Publications, was able to report on 21 successfully implemented STSMs so far. Therefore, the next point of the programme was the honouring of the three best STSM reports, which were determined by vote of all congress participants. Emmanuele Naboni ranked first with his topic "Design for Climate Change", followed by Catherine de Wolf and finally Simone Torresin came third. Nevertheless, Jelena emphasised that all reports earned respect and that within the still ongoing fourth grant period, another 4 STSMs are looking forward to their successful completion. This brings the total number of RESTORE missions to 25, which is an impressive result. It is indeed evidence of a lively exchange of research work, which is why the ACTION fully met its objectives in this respect as well.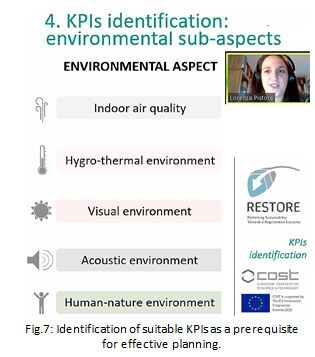 Working Group 2 had already reported in its Session that regenerative construction and management is also about the well-being of the users in a building. This aspect finally became more concrete in the following session of Working Group 4 under the topic "Rethinking Technologies" for a healthy indoor climate in buildings. The Session Moderator and Working Group Co-Leader Wilmer Pasut introduced this topic with the hypothetical question of which solution set actually makes such a microclimate regenerative. This was followed by individual presentations by Lorenza Pistore on key parameters, which should be used to assess the sustainability of such a living climate from a qualitative, visual and acoustic perspective. Thaleia Konstantinou introduced the façade of a building as a climate-regulating component that can integrate smart and efficient structures, such as heat exchangers. And finally, in his second presentation on the day, Sergio Altomonte advised on long-term monitoring of indoor climate data and analysis techniques, which should also integrate the opinions of the residents by means of questionnaires.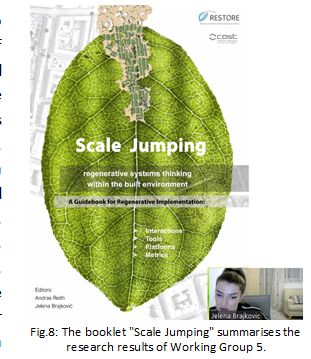 All good things go by five in the RESTORE ACTION and so Jelena Brajković closed the circle of sessions as Co-Leader of Working Group 5. She moderated a second discussion round on the topic "Scale Jumping – How to bring all Restorative Aspects to a Larger Scale". This was the working title of this final and still ongoing Working Group from 2020 to 2021, which recently held its Technical Training School in Vienna in September. David Calas first reported on this and emphasised the creative work of the participating students, who were to redesign a certain Viennese quarter, Brigittaplatz/Hannovermarkt in the 20th district of Vienna, according to sustainability criteria. This was done under the guiding question of what should be a beneficial vision for future life in cities. Calas's presentation was followed by a discussion among the three guest speakers of this Session. Anna-Vera Deinhammer explained that digitalisation as a future trend will give new impulses for living together in cities and that this technology will play a key role in more sustainable city life. Clarice Bleil de Souza called on urban planners to take a broader view in the future, with the transfer of knowledge from research to practice. Finally, Francesco Gonella, as a physicist, took a technical view and compared the city with a system in which the inflowing streams can positively be directed by target-oriented regulation to support the desired sustainability aspects.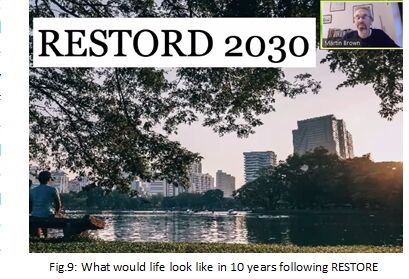 During all sessions of the respective Working Groups, the conference participants could virtually write down their ideas for the RESTORD 2030 project in the specially created chat forum. Martin Brown, head of this future project, which will conclude the RESTORE ACTION thematically, presented the results of this workshop. "What Future do we Want?", was the central question and more than 50 ideas were counted from the auditorium, which testified to a broad base of opinions, visions and hopes for a cooperation in cities that preserves human culture and nature. In summary for the topic area of Working Group 1, it can be said that in the future we all have to rely more on regenerative sources when living together. The answers from the thematic area of Working Group 2 called for more community involvement of all residents living in the urban district. Among the practical construction aspects of Working Group 3, the idea that in the future special Material Hunters should look out for suitable technological and sustainable alternatives in construction planning, found particular approval. From the session of Working Group 4, the proposal to transfer novel bio-based materials into a large number of common building applications as quickly as possible prevailed, and finally the proposals for the fifth Working Group could be summarised with the slogan "using less….demanding more". A principle that fully captures the essence of the RESTORD 2030 philosophy.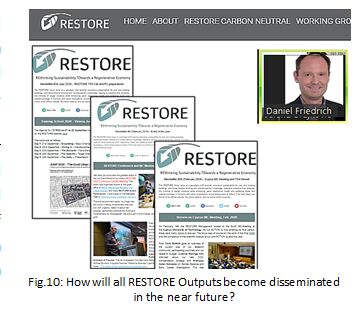 Since all five sessions obviously left a lasting impression on the conference topics, the question automatically arises as to how to proceed with all the good ideas and intentions. Especially since the ACTION is approaching its official end in April 2021. Daniel Friedrich, Science Communications Manager of the ACTION, addressed this question in his final presentation. First of all, he gave an overview of all previously published booklets, papers and reports of the Working Groups, thus illustrating the dimension of all the basic and applied knowledge created from RESTORE. All the more insistent was his demand to all participants to start actively with the dissemination and consolidation of this knowledge in research, teaching and academic industrial work. To this end, he showed examples of how this can be achieved in everyday life. Daniel emphasised that although the ACTION officially ends next year the RESTORE project will never be over. Currently, under the direction of Carlo Battisti, a project called RESTORY is being worked on, which will serve as a guide for future similar large-scale projects and make the experience of four years available to other project planners.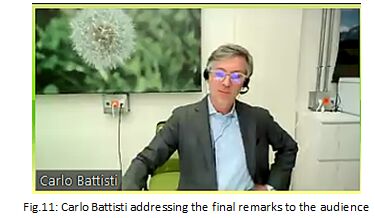 This hopefully long lasting RESTORE spirit was finally conjured up by Carlo Battisti in his closing speech, and he drew an extremely positive conclusion from the Conference. With over 100 participants and 22 presenters, it proved to be quite worthy of the dimension of the RESTORE ACTION and obviously produced many brilliant ideas for a future restorative cooperation.