In light of Covid-19 restrictions on travel and venues, the RESTORE Final Conference will be online – DECEMBER 3rd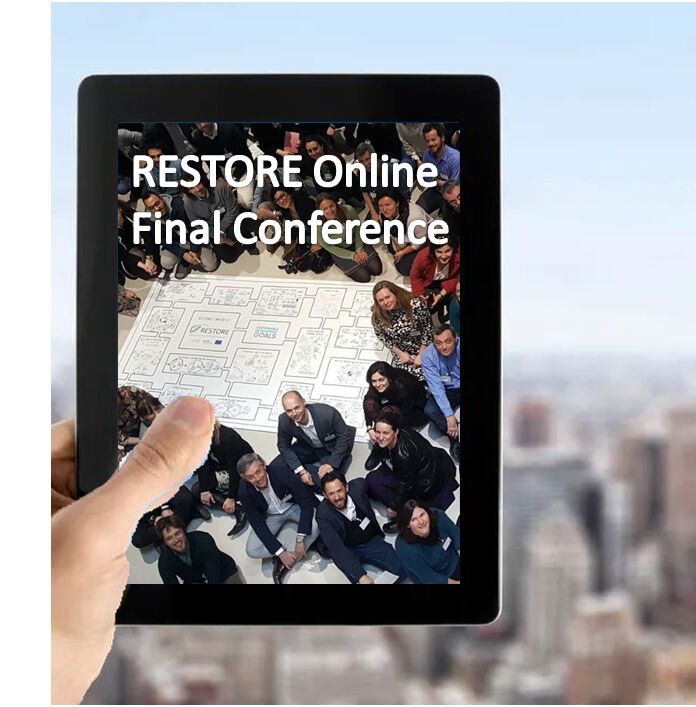 ---
Also save the date for the Living Future Europe 2020 Meet-up, which is the first online annual meeting gathering all ILFI members. It will take place on December 2nd. More info can be found here. Tickets are available via EVENTBRITE.
---
Agenda: RESTORE Online Final Conference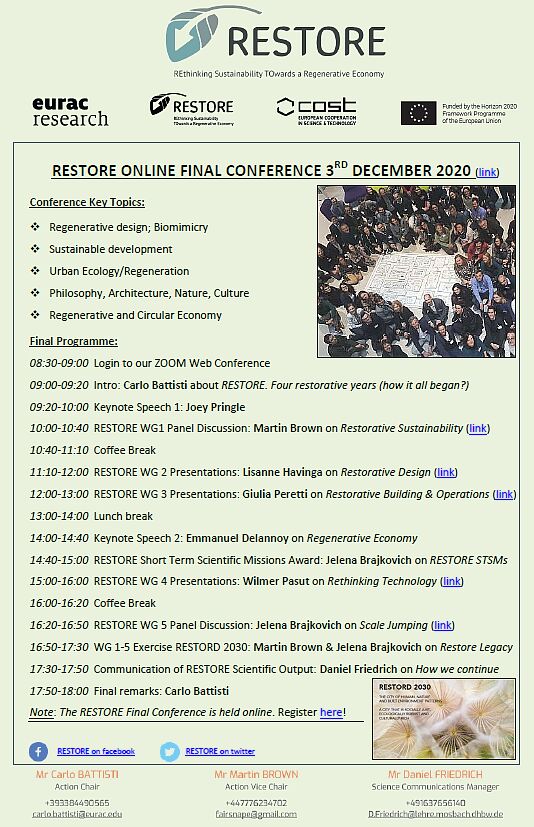 ---
The Abstract and CVs to the Speakers´ Presentations are below and can be opened by clicking on the names:
9.00-9.20 Intro: RESTORE. Four regenerative years (how it all began?)
Speaker: Carlo BATTISTI
9.20-10.00 Keynote 1: Regenerative Sustainability
Moderator: Martin BROWN
Speaker: Joey PRINGLE
Abstract: Joey will share his passion and vision for regenerative fashion manufacturing within regenerative factories that are socially just and ecologically sound. Veshin's approach to a regenerative future is a prime example of rethinking sustainability to enable a regenerative future, as a collaborative and symbiotic relationship between the built environment, the fashion sector and the natural ecosystem environment.
10.00-10.40 RESTORE WG1 Panel Discussion: The Ego, Eco, Seva Journey
Moderator: Martin BROWN together with Edeltraud HASELSTEINER, Blerta Vula RIZVANOLLI
Abstract: An original remit of RESTORE was to bring about a paradigm mindset shift in the way that we in the built environment approach sustainability, whether we are in practice or in academia. The journey of RESTORE from initial meetings in Faro can be described as one from Restorative to Regenerative, from Eco towards Seva. Seva, taken from Sanskrit is used in this context as 'doing the right thing because we are part of nature, not apart from". This panel conversation with Martin Brown and Guests will explore and discuss the underlying concepts of RESTORE and the Regenerative Sustainability journey.

Intrduction to the conference exercise based on RESTORD 2030: Martin BROWN (Fairsnape)
10.40-11.00 Coffee Break
11.00-12.00 RESTORE WG 2 Presentations: Restorative Design Process
Moderator: Lisanne HAVINGA
Abstract: Working Group 2 (WG2) of the COST Action Restore, presents and reviews a variety of emerging digital practices that can support the implementation of such a relationship within the frame of Regenerative Design. These were introduced via a series of literature reviews references, digital design approaches and real-world digital implementation cases, fostered by international practitioners and researchers who participated in the network. The group developed digital software workflows that are programmable to cope with customised and multi-domains issues. This allowed responding to a set of performance targets such as those linked to the local ecosystem and human health. The spectrum of adopted tools allowed to manage big data (concerning the climate, ecosystem, flows of materials, emissions, human health and individual physiological parameters), and to support the interdisciplinary simulation and evaluation of performance across scales.
11.05-11.20 Emanuele NABONI: Holistic regenerative digital city and buildings design
11.20-11.35 Catherine DE WOLF: Carbon and ecology within the design process and case study
11.35-11.50 Sergio ALTOMONTE: Human well-being via certification and tools
11.50-12.00 Questions & Answers
12.00-13.00 RESTORE WG 3 Presentations: Regenerative Constructions & Operations
Moderator: Giulia PERETTI
Abstract: According to the approach of WG3, this session gives an overview of the actual status and the challenges in the realization of regenerative building during the main stages of the life cycle of the building, from the construction, through the operation up to the future life. It starts with the current difficulties and obstacles as well as opportunities of implementing regenerative/sustainable construction in Europe.Then it will be moved to the operation and the maintenance of regenerative/sustainable building investigating the measures for a more sustainable and regenerative facility management. Finally there will be an insight to the future lifeof building, especially heritage building and how they can become a driver for regenerative sustainability.
12.05-12.20 Odysseas KONTOVOURKIS, Paola VILLORIA and Blerta VULA: Challenges and opportunities of implementing regenerative materials and technologies in building construction in Europe
12.20-12.35 Carsten DRUHMANN: Sustainable and regenerative management of the built environment
12.35-12.50 Paola BOARIN: Heritage conservation and community resilience: a pathway toward regenerative sustainability in the time of climate change
12.50-13.00 Questions & Answers
13.00-14.00 Lunch Break
14.00-14.40 Keynote 2: From circular economy to "permaeconomics"
Moderator: Eduardo BLANCO
Speaker: Emmanuel DELANNOY
Abstract: Changes affecting our environment are challenging the biosphere's capacity to support human development in a very close future. The accumulation of ecological, social and economic crises should prompt us to rethink how we articulate human well-being, economics and biodiversity as the foundations of prosperity. It is now time to go beyond the good intentions and speeches to apply a systemic and operational framework in designing new ways of value creation and distribution. Scarcity shift, desynchronization and the recognition of biosphere boundaries are the pillars of a broad mutation that has already begun. These findings invite us to explore how, through biomimicry, nature can be a source of inspiration for a new economy, going even further than circular economy. Rather than exploiting a stock of limited resources, this economy will value relationships, cooperation, agility, flows and information. It will aim at restoring resilience through a new understanding of cross interdependencies between human activities and non-human living systems. The concept of "permaeconomics", inspired by permaculture relies on 12 design principles as well as a strong ethics of human and non-human living relationships. The permaeconomics framework provides a systemic, holistic and fractal approach to design and conduct sustainable production systems, business model and manage organizations. Its implications are, beyond the triple bottom line approach, economically sound business models with a reinvestment in every means of production, including invested capital, human capital, social capital and natural capital.
14.40-15.00 STSM: RESTORE Short Term Scientific Missions Award
Moderator: Jelena BRAJKOVIC
15.00-16.00 RESTORE WG 4 Presentations: Rethinking technologies
Moderator: Wilmer PASUT and Roberto LOLLINI
Abstract: RESTORE WG4 aimed at defining an overall approach to characterize a regenerative indoor environment and related enabling technologies. When it comes to conceive indoor spaces, regenerative design entails placing the wellbeing of occupants and their expectations at the center through technologies meant to promote a paradigm shift in building design from "less bad" to "more regenerative". The centrality of the occupants is highlighted by the parameters proposed to define it (all user's oriented) and by the tools used to evaluate it (e.g. POE). Furthermore, the focus is not just the user per se, but it is the user and his/her history and cultural background. Human body's physiological and psychological responses to the environment and the comfort perception are subjective and integrate various physical phenomena and user's attitude and habits. Within the WG4, the researchers define a knowledge evaluation framework for the collection of solution-sets, which achieve the regenerative environment goals, meant to inspire designers approaching the theme of regenerative design. Finally, the regerativeness of an indoor environment goes beyond the physical walls of a building. The researchers highlighted how indoor environmental quality also means minimizing use of resources, and methodologies like Life Cycle Costing (LCC) and Social Life Cycle Assessment (S-LCA) are key for a fully informed regenerative design practice.
15.05-15.20 Lorenza PISTORE: Characterization of a regenerative indoor environment
15.20-15.35 Sergio ALTOMONTE: Monitoring and post-occupancy evaluation of a regenerative environment
15.35-15.50 Thaleia KONSTANTINOU: Solution sets for a regenerative environment
15.50-16.00 Questions & Answers
16.00-16.20 Coffee Break
16.20-16.50 RESTORE WG 5 Panel Discussion: Climate change & Cities, Circular Economy approach from cities
Moderator: Jelena BRAJKOVIC and David CALAS together with Anna-Vera DEINHAMMER, Clarice BLEIL DE SOUZA, Francesco GONELLA
Abstract: Are you wondering why the current trends of the built environment are facing a major rethinking process? Socio-cultural, Circular Approaches, Biophilic Design and other buzzwords indicate an ongoing changing process in how we are going to build our cities, buildings and public spaces. The WG5 Panel Discussion aims to connect theory and research to practice, looking at implementation-driven outcomes. The invited panellists represent top experts who are ambassadors for change and perform real regenerative scale-jumping in their fieldwork – from building components, over buildings, to the neighbourhood and the urban scale. How to overcome the financial, cultural and political barriers with practical knowledge about the circular economy, new methods and tools in the area of regenerative and restorative design? How to apply holistic, systems thinking to multidisciplinary urban strategies? Those are just some of the issues that will be addressed in a vibrant conversation about the most challenging aspects of regenerative acting, as well as possible ways to react to inequity, social injustice, climate change and knowledge gaps, on the more general, societal, and also the so-called expert level.
16.50-17.30 WG 1-5 Exercise on RESTORD 2030 (RESTORE Legacy)
Moderator: Jelena BRAJKOVIC and Martin BROWN
Abstract: What If: what would a city look like in ten years … if it embraced all the good work from RESTORE?
17.30-17.50 Communication of RESTORE Scientific Output: How we continue
Speaker: Daniel Friedrich
Abstract: One of the success factors of RESTORE lies in its sequential structure of our five working groups' research activities. Like in a hermeneutic circle, we generated output in high quality and quantity. In doing so, we developed along a path and gained in diversity of topics and practical relevance. Our goal of a paradigm shift was always in sight. Where has our four years of work left its mark, how can we effectively make our output available to ourselves and others in daily work and what are we planning to do with it even beyond the final grant period? Building on the overview of the research conducted by the individual working groups so far, this presentation will give an outlook on our results and future dissemination strategy.
17.50-18.00 Final Remarks: Did we affect a paradigm shift?
Speaker: Carlo BATTISTI
End of Conference
---