RESTORE Publications and Articles
---
RESTORY
Managing a COST Action as a Project
This publication has a two-fold aim: to summarize the main results from the COST Action CA16114 REthinking Sustainability TOwards a Regenerative Economy (RESTORE, 2017-2021); and, to provide some insight into the project management strategies that are in place for our team, thereby ensuring that the Action will be properly and successfully developed. COST is the longest-running European framework supporting trans-national cooperation between researchers, engineers, and scholars throughout Europe. The RESTORE Action is working for a paradigm shift towards restorative sustainability for new and existing buildings and space design across Europe, through active lobbying and mentoring, as well as through working groups, training schools and Short-Term Scientific Missions (STSMs), advancing the sustainability of restorative builtenvironment sustainability.
In this publication we will firstly provide an overview of what the RESTORE Action is, its challenge, main goals, structure, and main tasks. We will explore in greater detail how we addressed RESTORE, using an internationally recognized Project Management methodology. The voices of RESTORE active members will reflect their impressions and insights on the experience they lived within a COST Action.
RESTORE has seen some great experiences, milestones of achievement, opportunities to explore, although it has also gone astray, as might happen when addressing a new project. However, we have done our best to manage all the aspects, sometimes finding what we thought were brilliant  outcomes or at least achievements that deserve to be shared, if only to see whether others thought likewise.
We hope these insights will be helpful for other colleagues involved in either current or future COST network Actions, and in general for professionals dealing with international research projects and initiatives that typically involve a large number of scholars and practitioners from different fields and expertise.
Editors:  Carlo Battisti and Martin Brown.
Co-editors: Daniel Friedrich, Lisanne Havinga
---
RESTORD 2030
A Regenerative Guide for Educators Students and Practitioners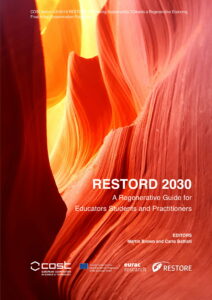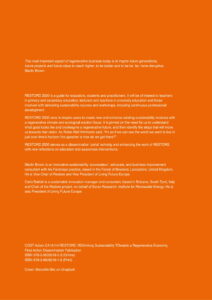 We are on the cusp of something regeneratively wonderful or something irreversibly disastrous. Use of the word 'regenerative' has seen a welcome resurgence, seemingly applied to everything, from farming to leadership, fashion, culture, economics and the built environment. RESTORE has addressed the two last-mentioned areas- Rethinking Sustainability towards a Regenerative Economy, in the context of the built environment.
It is not that regenerative thinking is new – it has been at the core of ecological thinking for decades, traced back to acclaimed and influential writers on nature and ecology such as Aldo Leopold, Rachel Carson and many others. Importantly, it has likewise been the foundation of many indigenous  cultures since time immemorial.
Its current use reflects the urgency we now face as climate change and ecological breakdown  become increasingly palpable. It represents a desire and a focused switch in mindset, away from the mechanistic, away from being only less bad, the common and dominant discourse, to one that is living and sees ourselves and the built environment as interactive parts of the beautiful and complex ecosystem web.
Along with the increased use of the term 'regenerative' we have a changing narrative. And this is important, as it is narratives that define us and contribute, in turn, to how we define and shape our future. The future is not something that just happens to us, but it is something that we create. As Arundhati Roy2 noted in April 2020, we need 'to imagine the future we want and be prepared to fight for it'. Yet, unless we urgently address the level of ecological and climate literacy, and levels of climate awareness within all areas of education, we will not have the narratives, insights and knowledge to imagine our future, to recognize goodness and what it looks like and to be able to fight for it.
This book, a RESTORE FAD (Final Action Dissemination) serves as:
1.0 A regenerative guide for educators, students, and practitioners.
2.0 A dissemination 'portal' both reflecting and enhancing on RESTORE work with new reflections on education and awareness interventions.
3.0 A primer for the (re)imagination of a city ten years into the future.
WELCOME TO THE CITY OF RESTORD.
Editors: Martin Brown and Carlo Battisti.
Co-editors: Ann Vanner, Alison Watson, Blerta Vula, Giulia Sonetti, Ivan Šulc, Jelena Brajković, Zvi Weinstein
---
RESTORE Final Book
Rethinking Sustainability Towards a Regenerative Economy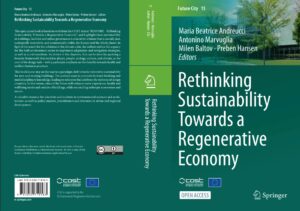 The book is structured in three parts, for a total of 22 chapters: 1) Processes, methods and tools for regenerative design; 2) Innovative approaches in professional design practice; 3) Rethinking technology towards a regenerative economy. Including preface, forewords and chapters, the book has contributions from 45 people, with affiliations from 22 different countries, even beyond Europe.
Several case studies are dealt with in the book, spanning from the application of digital tools for the built environment, to the simulation of the effects of climate adaptation strategies in urban environment, to nature-based solutions and indoor environmental quality investigations, to the use of bio-based plastics, just to mention a few. The book also presents a picture of European regulations and certification schemes in a path towards a future regenerative European landscape. The work is closed by a reading through the UN Sustainable Development Goals and the Green New Deal to analyse the efforts done and the work ahead in the regenerative urban transition in a post Covid-19 urban environment.
Rethinking Sustainability Towards a Regenerative Economy.
Editors: Andreucci, M.B., Marvuglia, A., Baltov, M., Hansen, P. (Eds.)
The book is available as Open Access here
---
SCALE JUMPING ›››
Regenerative Systems Thinking within the Built Environment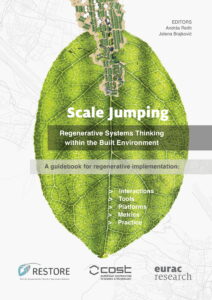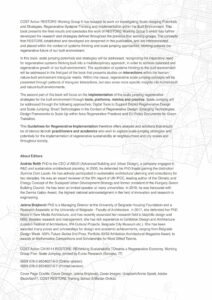 In this book, scale jumping potentials and approaches within regenerative practice are explored. It addresses the possibilities, problems and challenges of applying systems thinking to work towards the regenerative growth of our built environments. The publication presents the activities of the final RESTORE Working Group 5 (WG5) whose tasks were not only to investigate current frontiers in regenerative research and practice, but also to look into the future of regenerative implementation, through a systems thinking approach and systemic analyses of interactions, tools, platforms and metrics. As WG5 is the final RESTORE Working Group, it has drawn from the strategies and findings developed within the preceding four RESTORE Working Groups to discern future directions for the human-naturebuilt environment nexus. RESTORE WG5 comprises many professionals and academics whose different backgrounds have approached regenerative design and implementation through a multidisciplinary, holistic vision to achieve its goals. Since its formation up until the time of this publication, WG5 has been and is still a forum for active conversation between its many members, partners and collaborators. Fields of expertise comprising over 80 professionals and academics working towards WG5 goals, range from urban planning and architecture, structural engineering and smart grids, through to life-cycle assessments, green buildings, biophilia, emerging technologies, human geography, education, socially driven and participative design, as well as environmental policies, restorative economies, legislation and implementation.
Working in the challenging times of a global pandemic has strengthened the resolve of RESTORE WG5 to move towards the horizon of a regenerative future where healthier lives for both people and nature can be achieved, environments designed through a holistic approach, and technologies applied to support healthy and meaningful lives and lifestyles. In this section, we would like to thank everybody who has accompanied the RESTORE WG5 programme, striving towards a mutual objective, people who have made the WG5 concept a reality, and have remained active, motivated and creative in spite of the unusually hard and complex working conditions of 2020.
Editors: András Reith, Jelena Brajković.
Co-editors: Aleksandar Petrovski, Ana Sánchez-Ostiz, Antje Disterheft, Antonino Marvuglia, Baptiste Mougeot, Barry Hayes, Clarice Bleil De Souza, Cristina Jiménez-Pulido, Daniel Friedrich, David Calas, Doriana Matraku Dervishi, Dorota Kamrowska-Zaluska, Edeltraud Haselsteiner, Eduardo Blanco, Elisabetta Palumbo, Emanuela Giancola, Emanuele Naboni, Ezgi Kocaman, Ferhat Bejtullahu, Francesco De Luca, Francesco Gonella, George Onofrei, Gerald Leindecker, Giulia Sonetti, Gulben Calis, Hanna Obracht-Prondzynska, Haris Gekić, Ivan Šulc, Javier Babí Almenar, Jelena Brajković, Jonas Gremmelspacher, Jue Zhou, Kiril Gramatikov, Klaudia Ecker, Mădălina Sbarcea, Marielle Ferreira Silva, Martin Brown, Melinda Orova, Mercedes Del Rio Merino, Merve Kuru, Mihaela Hărmănescu, Naomi Morishita-Steffen, Odysseas Kontovourkis, Paola Villoria Sáez, Rosa Romano, Silvia Soutullo Castro, Todorka Samardzioska, Vesna Grujoska, Željka Kordej-De Villa, Zvi Weinstein.
---
REGENERATIVE TECHNOLOGIES FOR THE INDOOR ENVIRONMENT
Inspirational guidelines for practitioners


Key technologies can promote a paradigmatic shift in building design from "less bad" to "more regenerative". However, proper technologies need a dedicated evaluation framework for aware selection within a comprehensive decision-making process. The activities of Working Group Four of the COST Action RESTORE were undertaken with the aim of defining the aspects that determine a regenerative indoor environment, so that all the technologies and their characteristics that provide this "regenerativeness" may be defined. Practitioners can approach aware design of indoor regenerative environments with examples of solution-sets within the building domain and case studies.
Editors: Roberto Lollini – Responsible for the research group "Energy Efficient Buildings" within the Institute for Renewable Energy at EURAC Research in Bolzano, Italy; Wilmer Pasut – Associate Professor of Building Science at Ca' Foscari University in Venice, Italy.
Co-editors: Sergio Altomonte, Maria Beatrice Andreucci, Jelena Bleiziffer, Martin Brown, Gulben Calis, M. D. E. Elamin, Juan Pablo Fernandez Goycoolea, Marielle Ferreira Silva,Francesco Fiorito, Marco Giampaoletti, Kiril Gramatikov, Edeltraud Haselsteiner, Ezgi Kocaman, Thaleia Konstantinou, Odysseas Kontovourkis, Diana Kopeva, Zeljka Kordej-De Villa, Merve Kuru, Marija Miloshevska Janakieska,Emanuele Naboni, Elisabetta Palumbo, Lorenza Pistore, Rosa Romano, Giulia Sonetti, Nikolay Sterev, Marzia Traverso, Paola Villoria Sáez, Gabriela Zapata-Lancaster + contributions of RESTORE WG4 Members.
---
REGENERATIVE CONSTRUCTION AND OPERATION
Bridging the gap between design and construction, following a Life Cycle Approach consisting of practical approaches for procurement, construction, operation and future life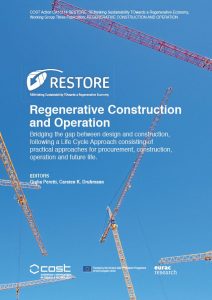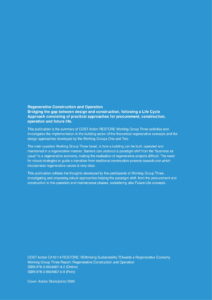 Regenerative Construction and Operation. Bridging the gap between design and construction, following a Life Cycle Approach consisting of practical approaches for procurement, construction, operation and future life.
This publication is the summary of COST Action RESTORE Working Group Three activities and investigates the implementation in the building sector of the theoretical regenerative concepts and the design approaches developed by the Working Groups One and Two.
The main question Working Group Three faced, is how a building can be built, operated and maintained in a regenerative manner. Barriers can undercut a paradigm shift from the "business as usual" to a regenerative economy, making the realisation of regenerative projects diffi cult. The need for robust strategies to guide a transition from traditional construction process towards one which incorporates regenerative values is very clear.
This publication collates the thoughts developed by the participants of Working Group Three, investigating and proposing robust approaches helping the paradigm shift, from the procurement and construction to the operation and maintenance phases, considering also Future Life concepts.
Editors: Giulia Peretti, Carsten K. Druhmann.
Co-Editiors: Jelena Bleiziffer, Martin Brown, Rafael Campama Pizarro, Mercedes del Río Merino, Odysseas Kontovourkis, Jonas Manuel Gremmelspacher, Suvi Nenonen, Indra Purs, Paola Villoria Sáez and Blerta Vula Rizvanolli.
---
REGENERATIVE DESIGN IN DIGITAL PRACTICE
A Handbook for the Built Environment
Architectural design can no longer be only concerned with developing artefacts that produce reduced environmental impacts within a certain threshold of emissions. Conversely, buildings today must be developed to reverse the effects of climate change, enhance natural systems, the built environment and inhabitants' life.
"Regenerative Design in the Digital Practice" explores how the regenerative concept is now being applied to the regenerative design of cities and buildings. A series of digital design approaches are exemplified via a series of examples drawn from leading international practitioners and researchers.
This book fills a gap in the existing literature by introducing fundamental design principles of regenerative design practice whilst acknowledging the potential and imperative of integrating science, big data and multi-discipline digital tools in the design process.
Emanuele Naboniis Associate Professor of Architecture at the Royal Danish Academy of Architecture, Design and Conservation (KADK)
Lisanne Havinga is a Researcher in both Building Physics and Architecture at the Department of the Built Environment of Eindhoven University of Technology (TU/e)
Co-Editors: Martin Brown, Dr.Angela Loder,  Sergio Altomonte, Terri Peters, Luca Finocchiaro, Ata Chokhachian, Clarice Bleil de Souza, Catherine De Wolf and Antonino Marvuglia 
---
SUSTAINABILITY, RESTORATIVE TO REGENERATIVE 
An exploration in progressing a paradigm shift in built environment thinking, from sustainability to restorative sustainability and on to regenerative sustainability
Sustainability, Restorative to Regenerative
An exploration in progressing a paradigm shift in built environment thinking, from sustainability to restorative sustainability and on to regenerative sustainability.
This publication explores: a language for sustainability that inspires, not confuses; a Social and Wellbeing world view of our place on the planet, Living Buildings that are restorative and regenerative and an essential component of climate change solutions; a Regenerative Heritage that shares memories of place from the past and provides lessons for the future; and Regenerative Economic thinking that is shifting the built environment from linear economics to regenerative economies.
To progress from the state of the art to a vision of Regenerative Sustainability, a number of triggers are identified: Rethinking EDUCATION to inspire the next generation; a re-connection with NATURE through Biophilic and Ecological Design; a sense of PLACE rooted in local, culturally rich and ecologically sound built environments and a CIRCULAR ECONOMY that moves us from limited growth to Regenerative Economies.
The future starts now, a future that has to be more cohesive, fair and sustainable. To achieve this goal our human actions have to embrace a different vision, one in which our sustainable well-being emerges from our love for the planet.
Editors: Martin Brown, Edeltraud Haselsteiner
Co-Editors: Diana Apró, Diana Kopeva, Egla Luca, Katri-Liisa Pulkkinen  and Blerta Vula Rizvanolli
Further Publications from RESTORE Members:
---
RESTORD 2030 (RE)Imagining a Future Regenerative City
"inspired by the work of the EU Cost Action RESTORE and the publications from 5 working groups, to address the challenges that the 2020 Novel Corona virus Covid19 presented, RESTORD embraced regenerative economic thinking to shape the current city. It is now an exemplar of human, nature and built environment synergy. It is a city that is socially just, ecologically robust and culturally rich"
WG5 Human, Nature, Built Environment Nexus Sub Group.
Download:  RESTORD 2030 – An introduction 3
---
Sustainable Development Goals and Regenerative Sustainability in Higher Education
Authors: Giulia Sonetti, Martin Brown and Emanuele Naboni
Published: Sustainability (as part of the Special Issue Sustainable Development and Higher Education Institutions: Acting with a purpose)
Date: January 2019
From: COST RESTORE WG2
Abstract: http://www.mdpi.com/2071-1050/11/1/254
PDF Version: http://www.mdpi.com/2071-1050/11/1/254/pdf
---
The Reuse Of Industrial Heritage As An Approach To Restorative Sustainability And Conservation 
– Comparison between industrial heritage development in the Southeastern Europe and Austria
Authors: Egla Luca, Ivan Sulç, Edeltraud Haselsteiner, Diana Kopeva, Martin Brown
Date: October 2018
From: COST RESTORE WG1
Access Journal: https://we.tl/t-7Je46ztnB0 
http://www.universitetipolis.edu.al/?q=sq/node/748
---
Current Status of Sustainable Construction in Europe
Research Poster at the International Conference on Technological Innovation in Building (CITE) in Madrid.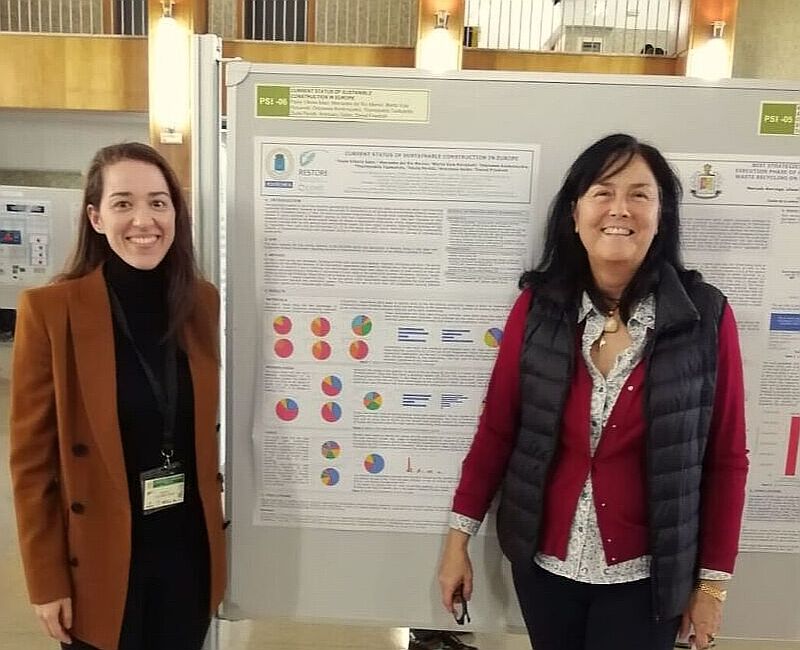 Authors: Paola Villoria Sáez, Mercedes del Río Merino, Blerta Vula Rizvanolli, Odysseas Kontovourkis, Themistoklis Tsalkatidis, Giulia Peretti, Aranzazu Galán and Daniel Friedrich
Date:  6 to 8 March 2019
From: COST RESTORE WG3
Download Congress Journal: BOOK OF ABSTRACTS CITE2019
Download Research Poster: Research Poster WG3 CITE Conference
---
A digital workflow to quantify regenerative urban design in the context of a changing climate
Authors: Emanuele Naboni, Jonathan Natanian, Giambattista Brizzi, Pietro Florio, Ata Chokhachian, Theodoros Galanos, Parag Rastogi
Date: October 2019
From: COST RESTORE WG2 and 5
Access Journal: https://www.sciencedirect.com/science/article/pii/S1364032119304551
---
A review of assessment methods for the urban environment and its energy sustainability to guarantee climate adaptation of future cities
Authors: Dasaraden Mauree, Emanuele Naboni, Silvia Coccolo, A.T.D. Perera, Vahid M. Nik, Jean-Louis Scartezzini
Date: September 2019
From: COST RESTORE WG2 and 5
Access Journal: https://www.sciencedirect.com/science/article/pii/S1364032119304551
---
Assessment of Ecotourism Perception of Rural Youth for Rural Development: A Case Study of Yığılca
Author: Pınar Gültekin
Date: October 2020
From: COST RESTORE ITC Conference Grant
Conference: 5th International Mediterranean Science and Engineering Congress (IMSEC 2020).
21-23 October 2020, Lonicera Hotel, Antalya, Turkey
---
See also Working Group Pages