WG4 – Rethinking Technology
Lead: Roberto Lollini Vice Lead: Wilmer Pasut
Commenced March 2019
---
Impact and influence of built en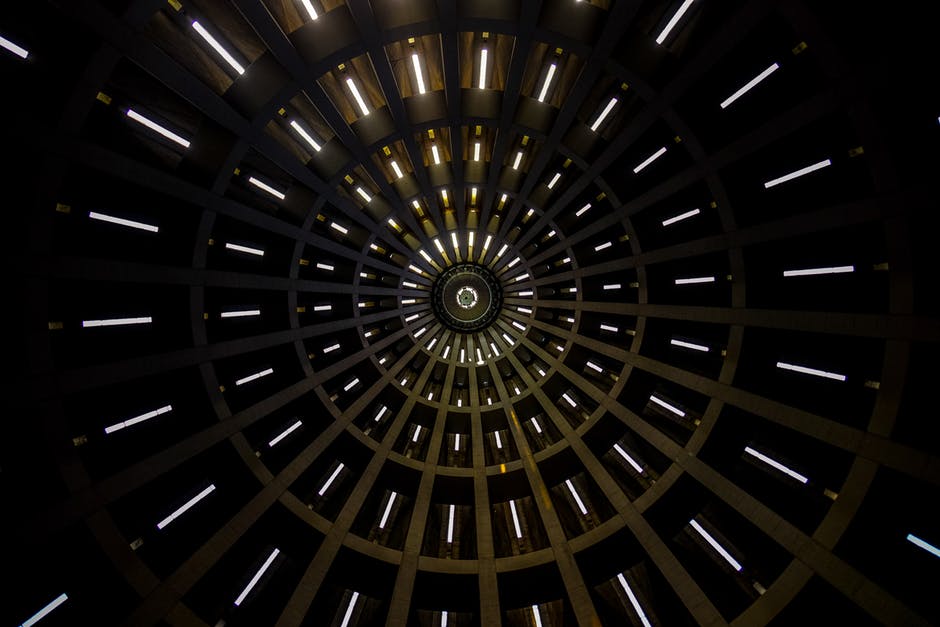 vironment technologies for a regenerative sector.
Keywords: Information Management, Digital, Smart (Buildings, Cities), Production (3D), Nanotechnology, Transportation, Communications and Social Media (regenerative education and learning).
This working group will explore the potential for further implementation of restorative interactive systems and technologies in new and existing buildings by means of the following methods:
Analysis of the state-of-the-art
Increasing awareness
Mentoring of practitioners and professionals
Dissemination
Each of these points will be addressed in a specific task.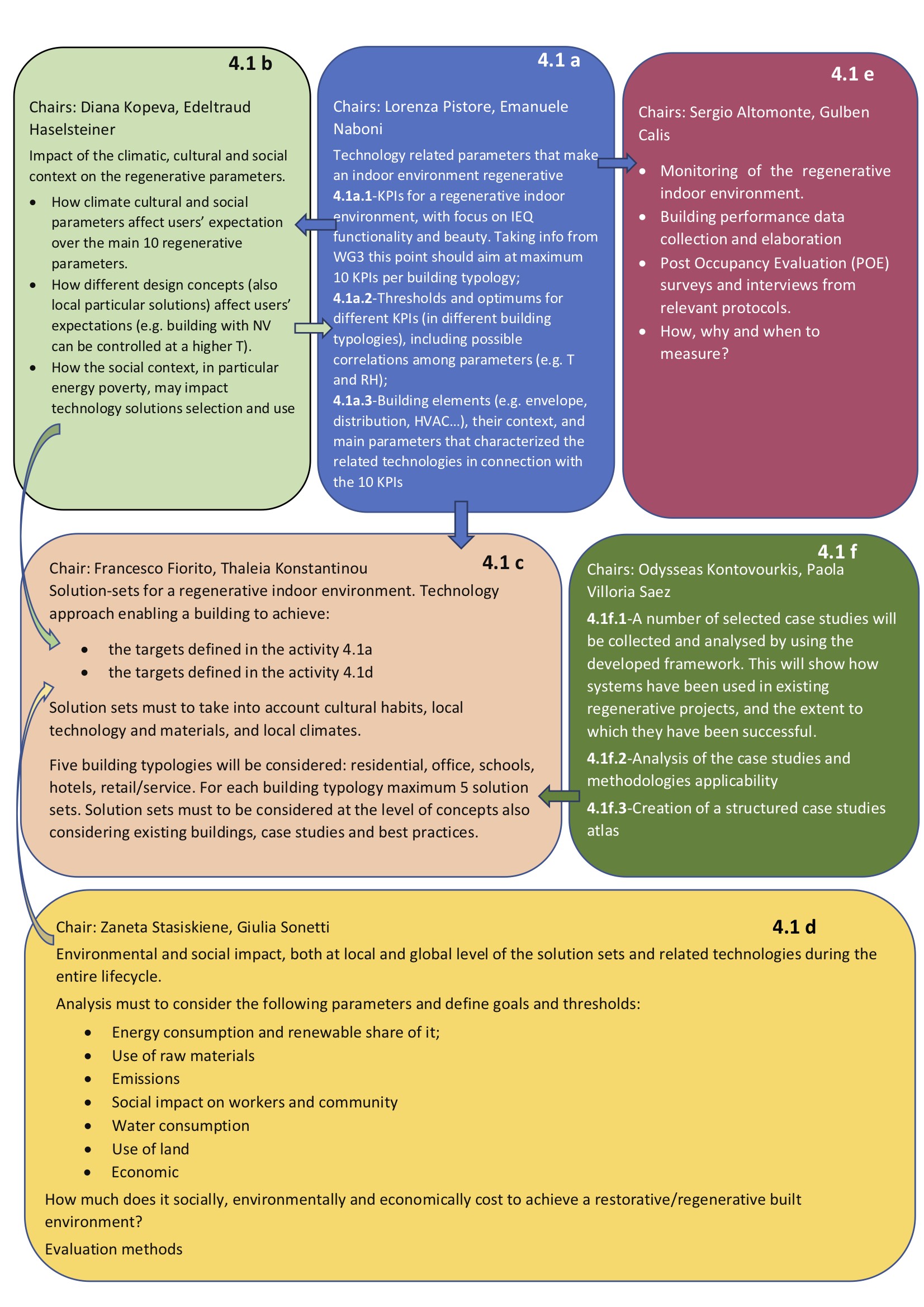 Engagement with Industry 
Engaging industry partners and promotion of their active participation for rethinking technology aimed at regenerative building indoor environment 
Proper technology solution-sets (the gears in the picture) can enable to guarantee a regenerative indoor environment (for people in the building), being resilient against the context dynamics, and with a positive research balance (circular exchange with the natural sources= the earth).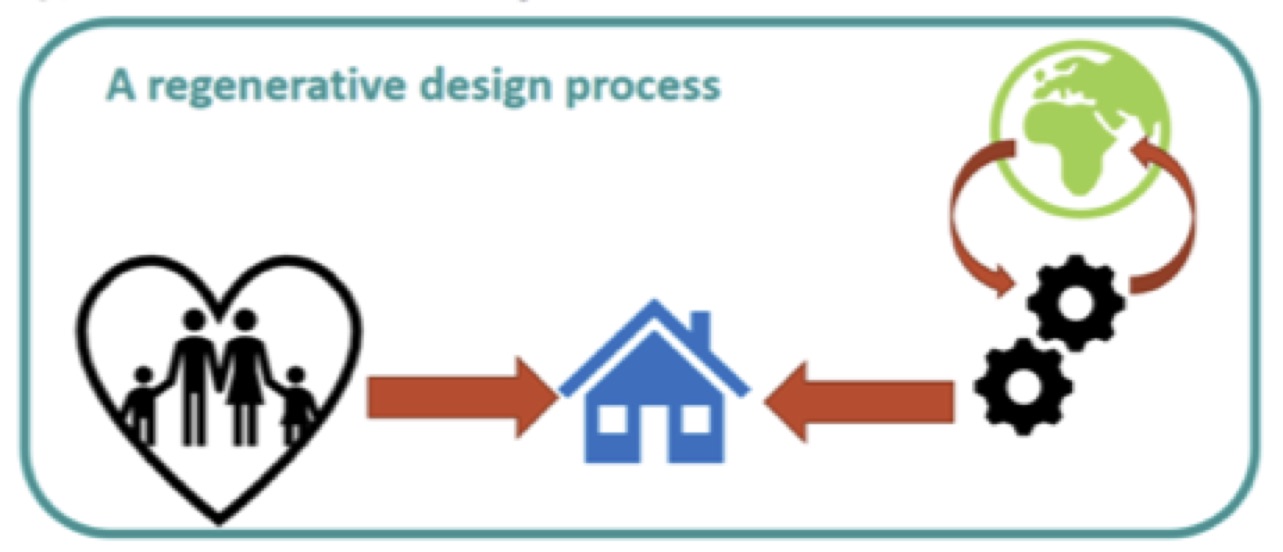 COST Action RESTORE WG4 is defining the Indoor Environmental Quality indicators to evaluate when a living environment is regenerative and how the context can affect such indicators. 
For practical reasons and to enable going into details with the methodological approach, we decided to focus on the indoor environmental quality (IEQ) being the main aspect of the living/working building indoor environment. Regenerative buildings have other feature such as circular management of needed water or other use of energy (e.g. for appliances), etc. that will not be analyzed by WG4. Nevertheless, the same approach we are developing for IEQ could be used for technologies aimed to face with others building functions. 
INDICATORS refer to the following area: 
Hygro-thermal comfort

 

Lighting

 

Acoustic

 

IAQ

 
RESTORE WG4 is defining a structured framework to be populated with the most interesting hard and soft technology contributing to regenerative indoor environment in different context. 
To populate such structured framework needs technical specifications and description of manufacturing activities, including all the works (and related players) in the supply chain. 
BENEFITS FOR INDUSTRY CONTRIBUTOR. 
Being in contact with a network of skilled market players (mainly from academic but also from private sector), that can bring to collaborative RTD project ideas or internal technological developments. 

 

Disseminate information (without explicit advertisement) on specific technology solution

s

 

Sharing strategic research agenda with a short and mid-term vision

 

Logo as

market

stakeholder

s

in the RESTORE website

 
REQUESTED COMMITMENT FROM INDUSTRY CONTRIBUTORS 
Formally join the working group, a

ppointing a representative

as the person in charge of actively participate to the works

 

Provide te

chnical and side information on technology

 

Participate to the meetings, workshops and summer school

 
 INDUSTRY WORKSHOPS 
RESTORE WG4 participants are setting the scene both in term of pre-competitive knowledge framework and organization of the first RESTORE industry workshop (scheduled early Autumn) 2019. Such workshop has the aim of enhancing active networking and facilitating the exchange of technical specifications and performances of promising building technology 
 WORKSHOP tentative agenda 
Presentation of WG4 rationale, running activities, and expected (or already obtained) results

 

Pitch deck for presenting industry participants

 
Common exercise to

be performed in small groups

:

 
Contribution to IEQ towards regenerative environment

 

Environmental and social impact

 

Possible improvement of market technology and adjustment for different contexts

 

Presentation of a couple of optimized regenerative solution-sets per working group highlighting robustness

 

Presentation of a shared solution atlas