WG1 – Restorative Sustainability
WG-Leader: Martin Brown, Vice Lead: Edeltraud Haselsteiner
Sub-Group Leaders: Diana Apró, Diana Kopeva, Egla Luca, Katri-Liisa Pulkkinen, Blerta Vula
Sustainability: Restorative to Regenerative. WG1 Publication
Our RESTORE Cost Action publication that records the outputs of the sustainability working group (1) is now available to download here:.Sustainability: Restorative to Regenerative V3
This publication, with contributions from over 20 EU countries is an exploration in progressing a paradigm shift in built environment thinking, from sustainability to restorative sustainability and on to regenerative sustainability.
It presents a reference document for future work of the RESTORE Action, for other Cost Actions and for built environment academia and industry organisations.
Within this publication we have sought to describe and reinforce a new era of sustainability, one that address the impacts, pressures and challenges of our anthropogenic age. Against the background of, and within the context of rapidly changing climate we no longer have the luxury not to seek a new sustainability.
It presents a new sustainability paradigm that moves away from just reducing impact to one that is committed to doing more good, through focused restorative and regenerative strategies and actions.
We have sought to establish a language of regenerative sustainability,one that includes love, place and participation in addition to regenerative approaches to energy, water and resources.
The rise in wellbeing as an element of sustainability is highly significant with many of the main stream standards now evolving to embrace wellbeing, aligning for example with the Well Build standard, or as in the case of the Living Building Challenge recognising the importance of buildings on the health and happiness of its inhabitants.
We can go much further however, though regenerative buildings that create conditions for all live to thrive, that provide salotogenic co-benefits, improving the mental and physical health of those who work, play and live within our buildings, and in doing so making a significant contribution to wider health care economies.
Through the work on definitions, a worldview of sustainability, living buildings, heritage and eco­nomy, we have identified and explored a number of 'triggers' necessary to move us to a future built environment that is ecologically sound, culturally rich, socially just and economically viable:
››› Language– a language for sustainability that inspires, not confuses,
››› Education– inspiring the next generation,
››› Nature– reconnecting buildings with nature that in turn can reconnect people with nature,
››› Place– living buildings that contribute to and enhance stories and culture of the past and share lessons for the future,
››› Economy– moving from limited growth to Regenerative Economies.
The working group definitions, insights, visions and triggers to move us towards a regenerative economy now sets the foundations;
››› for future RESTORE working groupsto build upon and to develop,
››› for industry to adopt and implementthrough adopting regenerative frameworks and standards identified (such as the Sustainable Development Goals and the Living Building Challenge) and
››› for education & academia to embrace and includewithin built environment curriculums.
The built environment is currently a major contribution to climate change, the task before us is to make the shift towards a future build environment that makes responsible contribution to climate solutions.
Welcome to a new era for sustainability
Martin Brown
---
Introduction to WG1
"The more we learn about sustainability, the more we realise we have to learn." 
"The Evolving Agenda of Restorative Sustainability, introduces the evolving spectrum of paradigms, challenges, opportunities and perspectives for a sustainable built environment, architecture and urban design. It discusses the knowledge, skills, and competence that should inform and orient industry, practice and social shifts required by a restorative sustainability"
We are faced with increasingly unquestionable evidence of the impact that human activity and the built environment has on the environment. Labeling our current era as anthropogenic is giving a sense of urgency to addressing a 'sustainability beyond sustainability' 
We see carbon parts per million now increased to 410ppm, a far way above the science-advised 350ppm safe limit. We seek to understand and implement the Paris Agreement targets to cap temp increases to 2.5deg C with an aspiration to cap at 1.5deg C.  We face significant resource impact, availability and cost issues. Evidence of climate change consequences, in weather, sea ice, fires, floods, earthquakes, ice calving are now regular news items.  
The built environment is currently a significant contributor to wider and global sustainable impacts, but can be a significant contributor to sustainability success. However, as Naomi Klein commented in This Changes Everything, "there are no non-radical solutions available to us" and as Martin Brown noted in FutuREstorative "we no longer have the luxury of being less bad"
Working Group One sets the scene for other working groups and asks three questions:
What is the state of the art for Restorative Sustainability?
Moving beyond the state of the art: Where do we want to be?
How do we get there? What are the 'triggers'?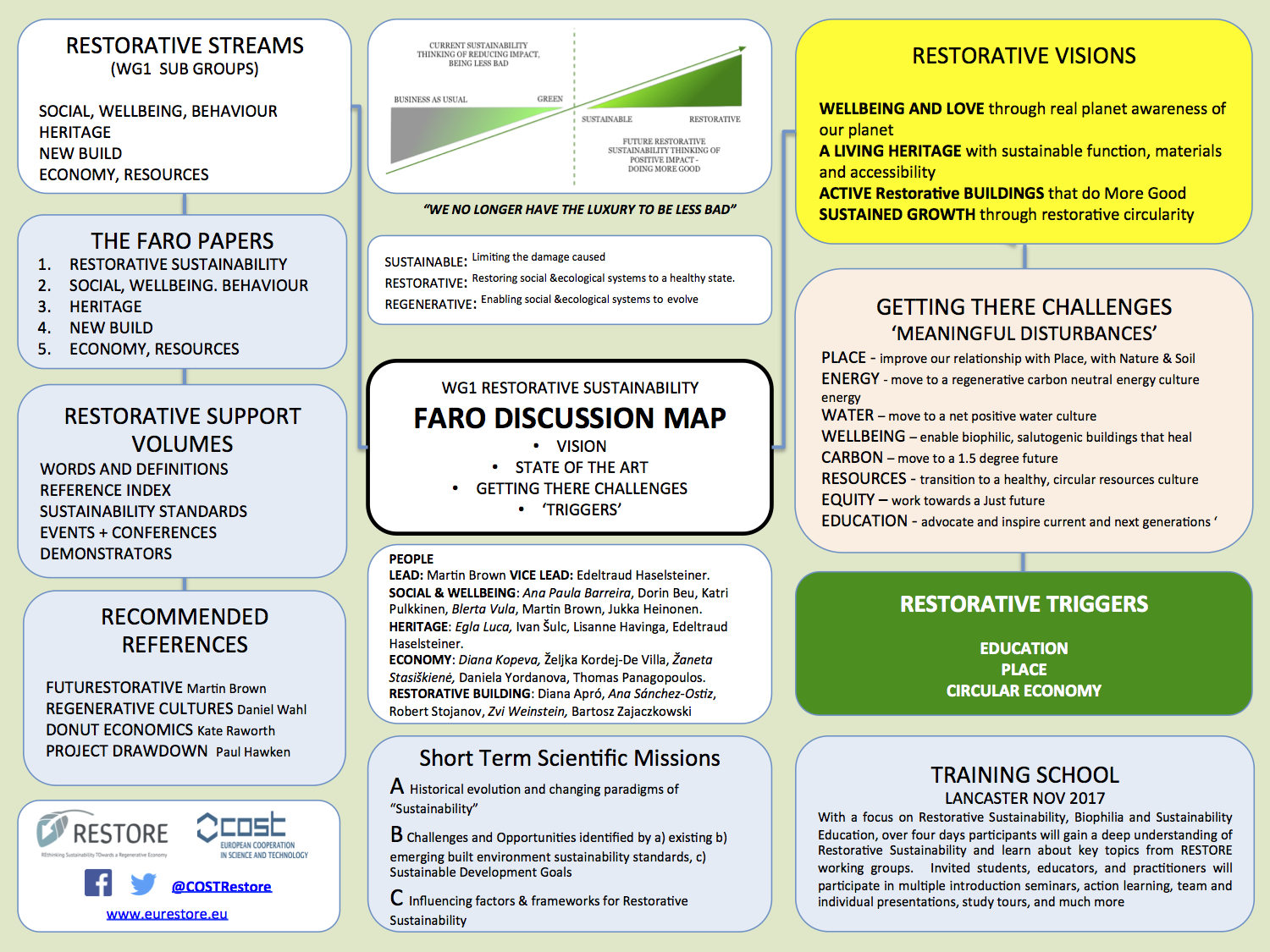 Themes and topics
The Working Group considers a number of key themes and topics:
PLACE: Relationship with place ecology, nature, soils, bio-climate,
ENERGY: restorative and regenerative energy, net-zero, carbon-neutral, energy storage
WATER: net positive water, building influence, floods, drought, water stress
WELLBEING: health, happiness, Salutogenesis, biophilia, mindfulness, air, light, comfort
CARBON: science based targets, 350ppm, 2Deg, 1.5Deg, social impact,
RESOURCES: healthy materials, responsible, transparency, conservation, circular economy,
EQUITY: equality fairness, inclusion, respect,
EDUCATION: behaviour, next generation, next project, development,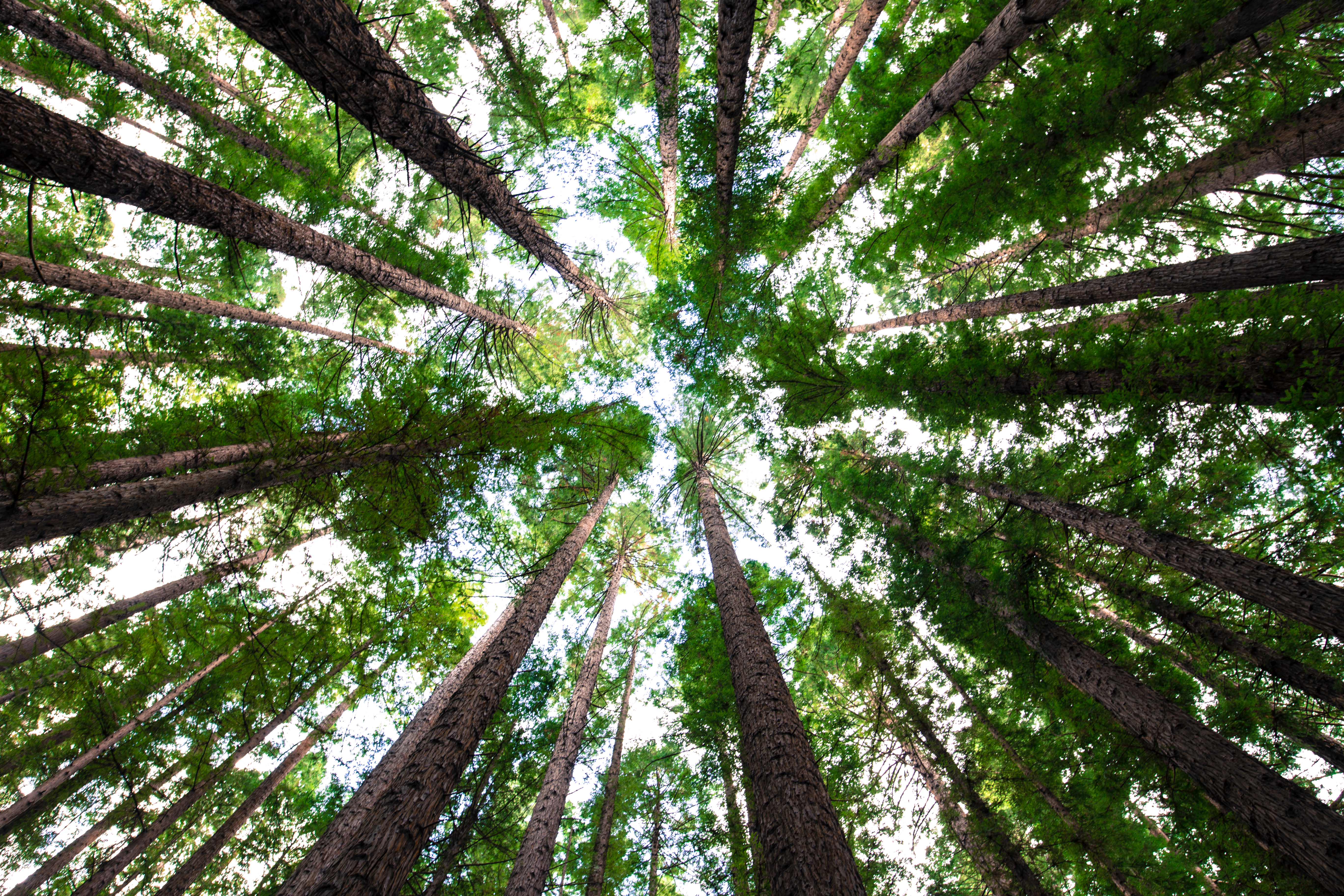 A number of subgroups have been established, cutting across the above themes, each producing papers (*) for further discussion:
Social, Health, Education, Behaviour, (leads: Blerta Vula-Rizvanolli, Katri Pulkkinen)
Regeneration Heritage, Existing Buildings (lead: Egla Luca)
Restorative Buildings (lead: Diana Apro)
Economics and Resources (lead: Diana Kopeva)
These will be accompanied by a number of supporting volumes:
Definitions – The Language of Sustainability (lead Martin Brown)
Reference Index (1: Circular Economy 2: Restorative Sustainability)
Built Environment Sustainability Standards
State of the Art
The Restorative Sustainability working group has identified the state of the art, explored and determined visions for a regenerative built environment. Using the concept of backcasting from these visions sub groups are identifying actions, and triggers, to move towards that vision. 
 It is recognised that 'current' restorative and regenerative State of the Art (strategies, practice, application) are at the beginnings of a huge potential that Regenerative built environment will present. For example, the circular economy, an emerging regenerative economy, has been valued with a worth of £39billion to the UK economy.
Definitions
The more we explore and research sustainability issues the more complexity we uncover.  With RESTORE concerning itself with a built environment that goes 'beyond' sustainability, it is essential we have established a common and grounded understanding of sustainability.  
Further, as RESTORE focuses on understanding and visioning for what a restorative and regenerative built environment would look like, it is likewise essential for a sound and agreed definition of Restorative and Regenerative terms. It is recognised that there will be regional and country, even local variants to these definitions, but the starting point for the RESTORE action is taken as: 
SUSTAINABLE: Limiting damage caused 

 

RESTORATIVE: Restoring social &ecological systems to a healthy state.  

 

REGENERATIVE: Enabling social & ecological systems to evolve 

 
 It is these definitions that should now inform future work of the RESTORE action, in Working Group One, but also working groups 2, 3, 4 and 5 (where scale jumping enables the transition from a sustainable built environment to one that is regenerative and enables life to thrive), to RESTORE training schools and STSM's. However it is important that RESTORE continues to develop and refine these terms to establish an influential definitive understanding that provides clarity for Regenerative Sustainability within and across the built environment sector. 
Visions
 A LANGUAGE OF SUSTAINABILITY that inspires, not confuses
WELL BEING AND LOVE through awareness of the planet

 

 A LIVING HERITAGE with sustainable function, materials and accessibility

 

 ACTIVE BUILDINGS: Restorative Buildings that do More Good

 

 

SUSTAINED GROWTH from restorative circularity

 
Support and Dissemination
WGI Restorative Sustainability will be supported by RESTORE STSM's
TRAINING SCHOOL DISSEMINATION: WGI Restorative Sustainability thinking and outcomes were disseminated through the RESTORE Training  School 
(*) Discussion papers and supporting volumes are accessible to WG1 and 2 members for comment and further discussion on the RESTORE SharePoint pages.
If you are a RESTORE participant and require access to SharePoint please contact Gloria Peasso.
Download FARO INFOGRAPHIC.