WG5 – Scale Jumping
WG-Leader: András Reith Vice Lead: Jelena Brajković
Sub-Group Leaders: Eduardo Blanco, Jelena Brajkovic, Martin Brown, David Calas, Gulben Calis, Doriana Dervishi, Miguel Angel Gomez Zotano, Mihaela Harmanescu, Edeltraud Haselsteiner, Barry Hayes,Dorota Kamrowska-Zaluska, Odysseas Kontovourkis, Diana Kopeva, Gerald Leindecker, Luis Loures, Francesco de Luca, Naomi Morishita-Steffen, Emanuele Naboni, George Onofrei, Indra Purs, Giulia Sonetti, Dimitra Theochari, Paola Villoria, Stylianos Yiatros, DanielaYordanova.
Commencing February 2020
---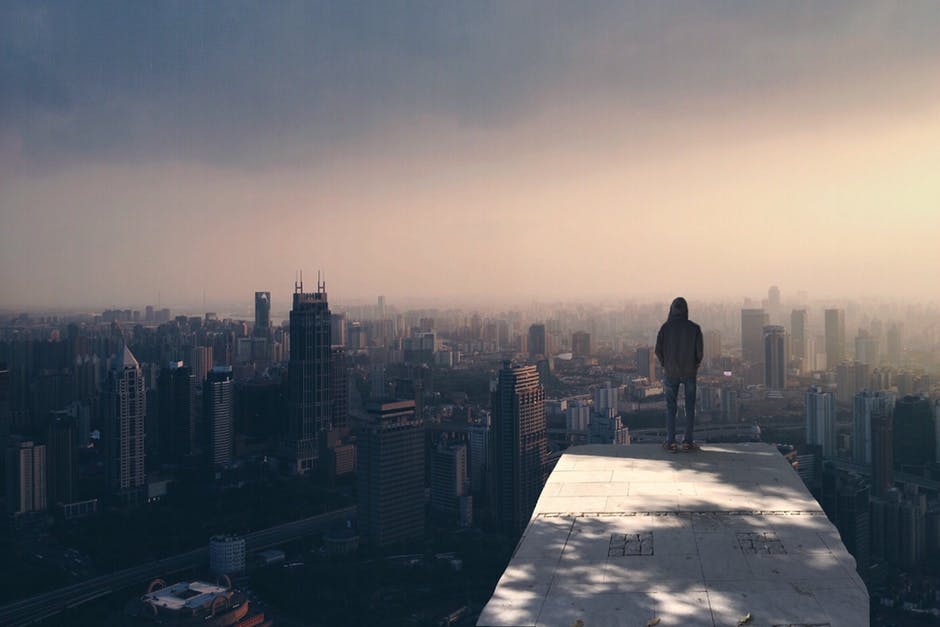 In WG5 we are thinking about restorative and regenerative processes beyond the individual or particular (material, building, person/professional; space). We will identify scale jumping potentials for neighbourhood, city and society-wide level regenerative sustainability.
Examples of scale jumping:
Material/component → Building → Neighbourhood →> District → City
Place → Destination → Region
Individual → Profession (group) → Society
Scientific, exclusive knowledge → Professional knowledge → Popular knowledge
OBJECTIVES: To explore scale jumping potentials including analysis, solutions, and implementation.
We are working in 8 subgroups (2 main themes)
5.1 INTERACTIONS

5.1a Human – human interactions in education, research and professional practice
5.1b Human – built environment interactions
5.1c Nature – built environment interactions
5.2d Nature – human – built environment triangular interactions
5.2 TOOLS, PLATFORMS AND METRICS
5.2a Digital tools and emerging technologies for supporting design (e.g. 3D printing, automatization, VR, blockchain)
5.2b Smartness (IoT, AI, smart technologies)
5.2c Assessments, rating and diagnostics
5.2d Legislation, urban/regional planning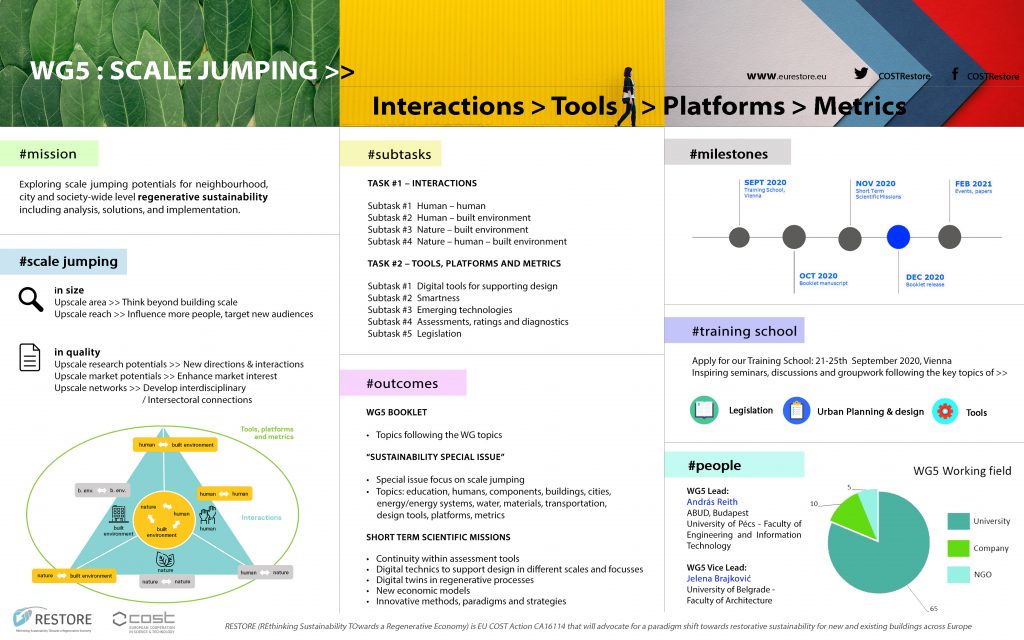 Keywords: Building as Clusters, Buildings as nodes in Nano and Micro Grids (energy, water, transport, communications), Neighbourhoods, Smart and Eco Cities.
Activities will include: New paradigm definition + gap analysis, short-term scientific missions, training school, events, papers
Outcomes to include: Short term: State of the art + new paradigm report, short-term scientific missions, training school, events, and papers.
Long term: Produce training materials, Contribute to the "Atlas of Solutions" a catalogue of solutions that facilitate the creation of regenerative Buildings.