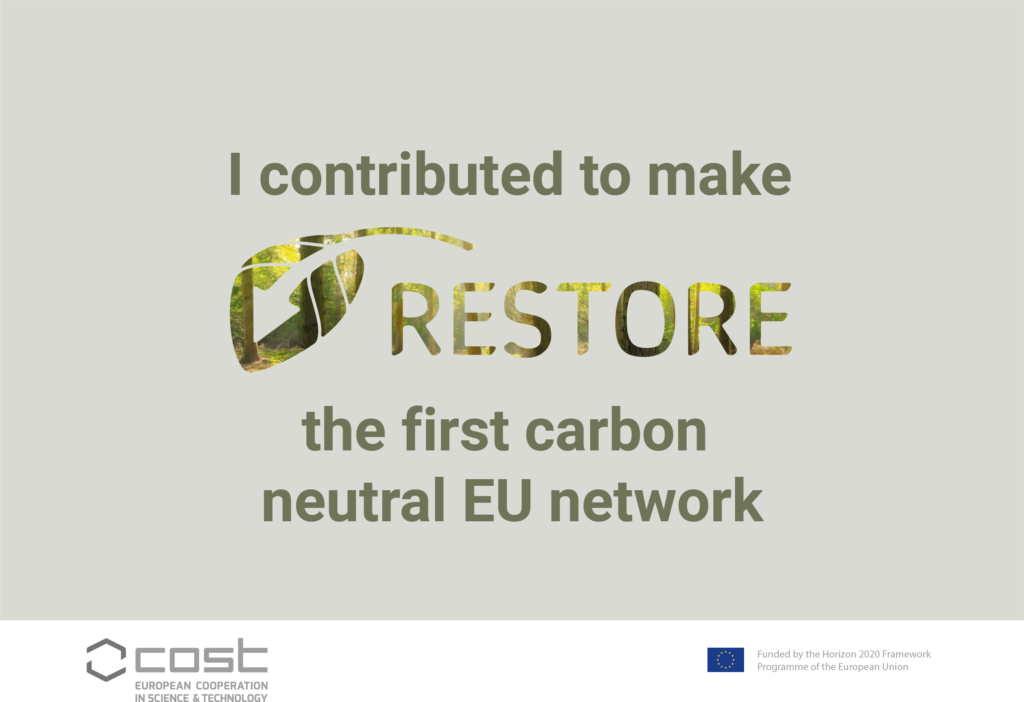 RESTORE the 1st carbon net positive European research project and network
'Carbon is not the problem. We are the problem'.- Paul Hawken, Buildwell, 2016
RESTORE – Rethinking Sustainability Towards a Regenerative Economy – an EU-funded Pan-European Network of 160 researchers and industry representatives from 40 countries. We are networking, publishing and operating through Working Groups, Training Schools and Short Term Scientific Missions.
The WWF estimates that 84% of emissions arise from energy, transportation, and the built environment.
Whilst RESTORE working groups, training schools and STSMs, through publications and papers have explored and suggested interventions to reduce carbon emissions from the built environment, these activities are in themselves significant sources of emissions associated with travel.
Over the four years of the RESTORE action, members have travelled an estimated 3 million km, using a variety of transportation means, predominantly aviation. There is also a considerable impact arising from local travel to and from airports. At the end of the project, we calculated our emissions, and estimated them to be approximately 240 tonnes of CO2.
In line with the RESTORE regenerative purpose, principles, and vision of doing more good, and not just seeking to be less bad, RESTORE set itself the mission of achieving carbon neutrality.
The RESTORE Carbon Neutral Strategy (ARRO – Avoid, Reduce, Replace, and then Offset) is grounded on two main approaches, hierarchically ordered as:
Avoid, Reduce and Replace at least 50% of the CO2 emissions associated with activities
Offset all remaining (travel) CO2 emissions, making RESTORE carbon neutral.
Our Strategy
Avoiding, Reducing and Replacing CO2 emissions.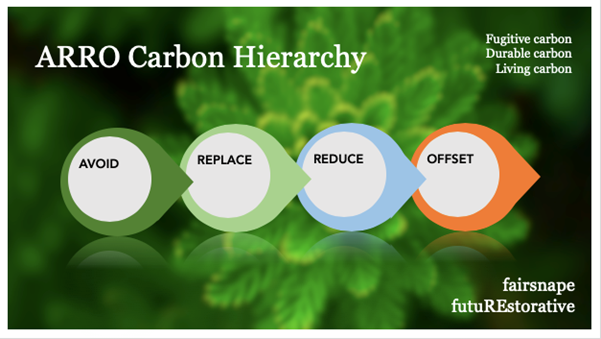 To Avoid
In planning activities, the management of the Action, on a case-by-case basis, considered web-based options for activities with a low 'handprint' (the expected outcomes resulting from the activity) in relation to the expected footprint. Invitations to activities included the explicit option to join the meeting through dial-in options such as Skype/GoToMeeting. RESTORE also considered web-based dissemination possibilities such as webinars, MOOCs, etc.
To Reduce
In planning meetings, the management of the Action considered on a case-by-case basis, combining meetings and activities, both for RESTORE and in conjunction other external events, the CO2 impact of possible locations, and selecting a location that has a good combination of a positive 'handprint' and a low footprint.
To Replace
The invitation to meetings included the suggestion to consider low-carbon transport, such as travelling by train. Participants were encouraged to consider taking a direct flight instead of a connecting flight. Flights should be discouraged for short-distance travel <300 km or where there are direct train connection options.
Offset all remaining CO2 emissions, making RESTORE carbon neutral:
To Offset
In the final stretches of RESTORE, we set out to offset any remaining emissions, to ensure that RESTORE has a regenerative, and thus a positive, environmental impact. For this purpose, the total CO2 emissions of RESTORE were calculated.
RESTORE is the 1st carbon neutral European research project and network
We offset the remaining CO2 through retirement of Verified Emission Reductions (VER) deriving from funding several international projects and initiatives, as for instance:
We are grateful to all those who made personal effort to Avoid, Replace and Reduce and make Offset contributions to ensure the success of our Carbon Strategy.
Exemplary final event
Our carbon journey is not over yet. Throughout the 4 years of the RESTORE action, we have developed a phenomenal regenerative Body of Knowledge through publications, papers, articles, videos and presentations. These have been downloaded, viewed and accessed by many researchers, practitioners and organisations globally. We will seek to address the CO2 elements of future dissemination events relating to this Body of Knowledge, (rBOK) and encourage those accessing RESTORE material to do likewise.
For example, within the framework of our Restore Ready events series, our last conference in Sabden (United Kingdom) was carbon positive in the end through careful planning and offsetting more carbon than emitted through
– Travel to and from the venue
– Collection and Delivery Transport
– Energy used during the event
– Seven hours of streaming and internet connectivity/access
– Remote presenters streaming
– Remote users viewing
– Post Event recordings / editing
– Proceedings' publication